Big Jim World

Here is a little map to demonstrate where Big Jim was sold, eventually sold and sure not sold.
Maybe this map helps to make plans for the next holidays.

More informations would be helpful (e-mail : mailto:bigjimmattel@yahoo.de)
If you are an actionfigure-collector from india, croatia, greece, norway, finland, bosnia, south america, africa, middle america, jugoslawia, near east, slowenia, far east, malaysia, indonesia, Hong Kong, China, brazil, israel, egypt, new-zealand, iran, iceland, taiwan, korea, south-africa, namibia... you maybe know what i want to know:
Have their been sold Big Jim figures in your country or not ?
Please send me any information, i have too many white spots on this map.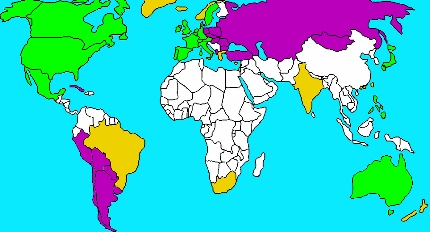 | | | | | | | | |
| --- | --- | --- | --- | --- | --- | --- | --- |
| ... | was avaiable | ... | maybe avaiable | ... | don't know | ... | not avaiable |